Bringing A 1966 Barker Back To Life
Vintage guitar collectors are a nostalgic bunch. We love a back story and will even pay extra for one - especially when it can be authenticated with documents. We love original sales receipts, original hard shell cases (OHSC), hang tags and brochures from the time of the original sale (aka Case Candy). We love "single owner" guitars with "honest wear" and we love "all original" above all else.
To the best of my recollection my earliest exposure to a Barker guitar was the one that hung on my first teacher's studio wall. I was just learning about guitars and jazz and each week when I'd arrive for my lesson I'd see this big, beautiful, hand-made guitar with sunburst finish and the unique engraved nameplate on the headstock (a design element found on Barker's guitars built before 1969).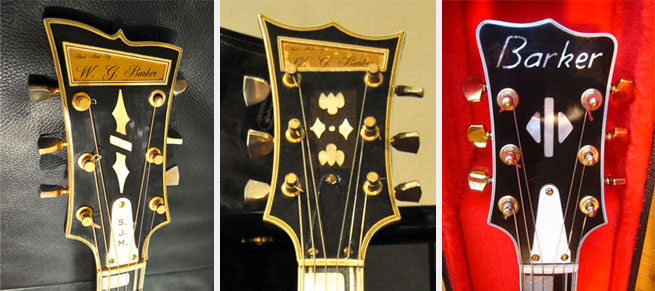 My teacher's Barker reminded me of the Gibsons, Epiphones, and even D'Angelicos that I'd seen at Guitar Works, Ltd., the store I lived behind in Evanston, but it was also quite different. To my eye, the Barker was built around it's DeArmond Rhythm Chief 1100, which has been an integral part of every Barker I've seen or played. These pickups were designed to be added to acoustic archtop guitars to allow players to "plug in" without having to cut holes into their jazz boxes. Everything from the shallow arch of the Barker's top to the single traverse bracing (on his early guitars) tells me that this guitar was never meant to "cut through" the brass and woodwinds of an orchestra as the Gibsons, Epiphones, D'Angelicos and Strombergs were built to do. Instead, Mr. Barker chose to build a lighter, more delicate instrument. The pickguard even has a 3 inch notch built into it to allow the pickup to slide up or down the neck rod to adjust for subtle differences in tone as desired by the owner. The neck is 24.75" scale (short for modern-day builders) which lowers the string tension and again favors the amplified guitar (this scale is shared by Gibson's highly popular ES-175) rather than the "chunk chunk" rhythm style you might hear played on more traditional acoustic archtops with 25 or 25.5" scales.
William G. Barker built archtop guitars in the 1960s in Toledo, Ohio. I know this because of the label I can see through the f-hole of my recently acquired Barker 17" archtop. I've also learned how to date a Barker from the serial number; mine is 1466 which tells me I own the 14th guitar Barker built (of an estimated 120 by the time of his passing) and it was completed in 1966. Much of the history of this guitar and it's builder remains a mystery but here are a few things I've learned:
Sometime in the early seventies Bill Barker and his brother Jack opened a shop at 6100 S. Adams Street in Bartonville, IL where they built and repaired guitars. Bill would build the majority of his guitars here in Illinois and would pass his knowledge and expertise on to at least two aspiring luthiers who would continue his tradition; Bill Hollenbeck and Billy Cook. Bill Barker originally learned guitar building from Carl Albanus Johnson, a violin maker in Chicago who built 60-70 archtops of his own before passing away in the 1970s. Carl is believed to have learned to build archtop guitars from none other than Elmer Stromberg.
This Barker archtop guitar has a unique story. It was stolen from it's current owner (probably not it's original owner) sometime in the 1980s. A claim was made and paid by the owner's insurance company (Allstate) and at some point, years later, the guitar was recovered. It sat, unclaimed, for a period and was eventually sold at an auction, where an Allstate employee purchased it, took it home, and placed it in a cardboard box into a closet where it remained unplayed for over two decades because it was missing the tuner button of it's Kluson Sealfast G string tuner. When the new owner passed away it was rediscovered and made available for sale.
With only 110-120 guitars ever made by William G. Barker you will rarely find them for sale - even on eBay. Living in Illinois helps, since many of his guitars remain in the Midwest. In recent years I've become reacquainted with Barker guitars and have had the opportunity to play two different examples of his work. First is a near mint 1977 archtop that my friend Andy Pratt purchased from Jack Cecchini, a legendary jazz guitar figure in the Chicago area. It's an amazing instrument with a somewhat wider neck than is common - it is assumed that it was built that way for Jack who also plays and teaches classical guitar. Second is the Barker played by Frank Portolese for the entirety of his career that I've recently learned is Barker's 18th guitar, also built in 1966. Frank's guitar can be heard intimately in his recently released Plectrum Jazz Guitar Solos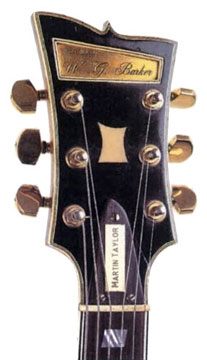 Barker's 9th guitar, built in 1964 (or 1965, depending on your source) is probably his most famous - you've heard it many times because it was used on Elvis Presley's recording of Love Me Tender. It can also be heard on the soundtracks of numerous film and television shows including the Batman series of the 1960s. Though thought to be originally intended for Howard Roberts it was sold instead to a lesser known studio guitarist, Johnny Gray. It was later owned by Ike Issacs (who played with Stephane Grappelli in the early 1970s) and was eventually presented to Martin Taylor as a present on his 21st Birthday. Taylor plays his Barker on his 1982 release, Skye Boat. In a November, 2010 interview with Dan Forte for Vintage Guitar magazine Martin said he still has his Barker and added, "I got to know Bill Barker and his brother Jack, and visited them several times in Peoria, Illinois. He made some fine instruments, but never achieved the acclaim he deserved."
After laying Barker #1466 out on the workbench we began a long list of minor repairs and adjustments to get it singing again. The 20+ year old strings were snipped off, the frets were polished with 0000 steel wool to remove years of gunk, the neck was sighted and, though an adjustment was deemed unnecessary, the truss rod cover was removed for examination of the truss rod and for cleaning. To our surprise, the back of the truss rod cover (which was actually the front) had been monogrammed with the initials S. J. M. Sadly, I was told by Billy Cook that when Bill Barker passed away his sales/building records were thrown away so we may never know who this guitar was originally built for. If anyone knows I'd certainly love to hear the story. We took the pickguard and pickup off, switched out the RCA jack (?) for an 1/8", tested and sprayed the pot with electric cleaner, re-installed everything for better fit and alignment, put on the replacement tuner, and strung it up for it's final set-up. This Barker played splendidly. Unplugged it was the gentle giant I'd come to expect and plugged in it sounded clean and warm, balanced and tight. Playing rhythm on it is a dream and chord melody offers just enough acoustic attack mixed in with the amplified tones - exactly what William G. Barker intended.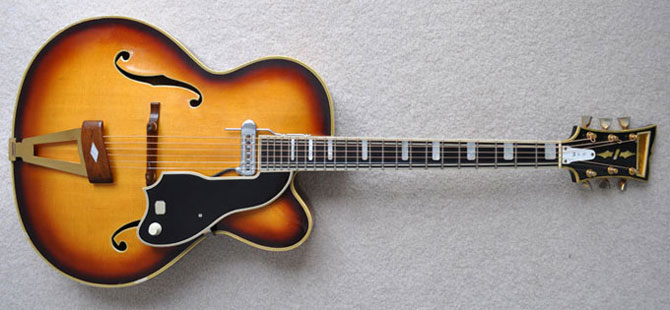 1966 Barker Archtop #1466
Bill Barker passsed away in 1991, at the young age of 63, just four years after selling his business to Bill Cook, the son of a friend who had apprenticed in his shop for 11 years. Bill built some beautiful guitars and, after taking a break with the birth of his son, has recently begun a batch of 6 new 17" archtops.
One last note, for you aspiring luthiers out there - Bill Barker bandsawed his first guitar in half after being unsatisfied with his results. I, for one, am glad he tried and tried again!
December 16, 2010 Update: It turns out that the mysterious initials S. J. M. indicate this guitar was originally built for a Simon Jr. Maccanelli, who retired to Florida some years back and has since passed away. The guitar was stolen from him and later recovered. Word is he may have even purchased another Barker after the insurance company settled with him.
October, 2011 Update: Over the past year I've enjoyed numerous communications from other Barker owners appreciative of my story and research and excited to share stories of their own. Following a few leads brought me to some interesting photos of a lesser-known guitarist named Mary Osborne. Below is the cover of one of her records with her Barker front and center. The second photo is a close-up of a photo taken by Tom Marcello ( view the original as well as other great photos by Tom HERE).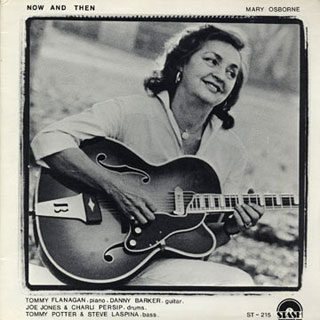 Additionally, I found a great article recently published here at VintageGuitar.com which talks about her and her early custom Barker archtop.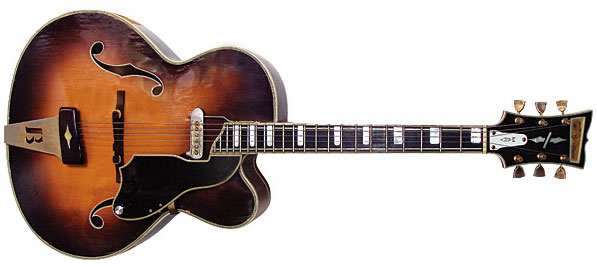 Note the custom tailpiece and different f-holes featured on Mary's Barker.
August 2013 Update: I was excited to hear from (and later to speak with) Jeff Maccanelli, whose father was the owner of this guitar. He confirmed the details I had learned of this guitar - it had been stolen from their home in Farmington, IL in the 1980s, etc. Jeff's father, Simon, was friends with Bill and saved the 1975 newspaper article that is shown below.
This is the guitar given to Martin Taylor on October 20, 1977 (his 21st Birthday).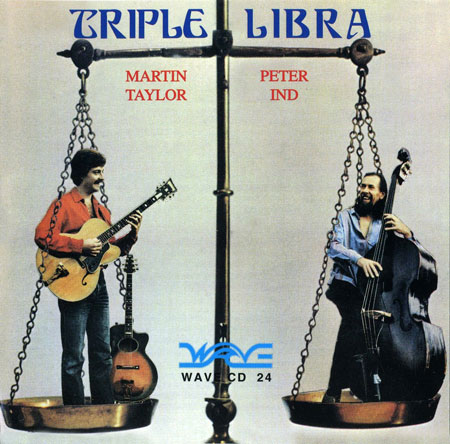 This is the same guitar on Martin Taylor's 1981 LP Triple Libra cover.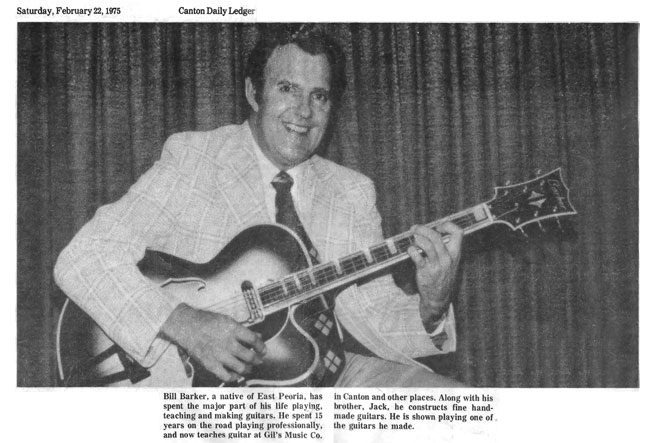 The above photo of Bill Barker and letterhead compliments of Jeff Maccanelli.
Sources: Bill Cook of Cook Guitars and Illustrated Directory of Guitars by Ray Bonds, Vintage Guitar magazine, and Jeff Maccanelli