DeArmond Archtop Pickups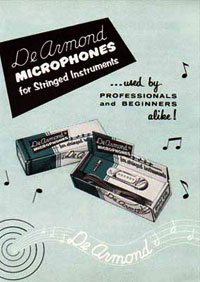 Rowe Industries, Toledo, OH manufactured DeArmond brand pickups for a variety of different stringed instruments from the 1930's through the 1960's. For our purposes here we will discuss the models made specifically for amplifying acoustic archtop guitars.
The intention of these pickups or "guitar microphones", as the packaging referred to them, was to allow an acoustic guitar to be amplified without disturbing the acoustic tone of the instrument by permanently installing the pickup into the solid wood top of the guitar. Flat top guitars (Spanish or western guitars with center oval soundholes) were easy to attach a pickup to but the f-holes of an archtop are not located under the strings so a more ingenious method was necessary. DeArmonds were available with two different methods for attaching to the archtop; the neck rod, or string clamp and bracket (aka "monkey on a stick").
The neck rod attached to the neck of the guitar with two small screws while the string clamp (sometimes called the pressure rod) attached to all 6 strings on the lower side of the bridge.
Gold 1100, Chrome 1100, Chrome 1000 models (in boxes)
Click Above For Larger Images
The DeArmond was the original floating pickup, later copied by Kent, Sekova, and other brands. The top model, the Model 1100 Adjustable Rhythm Chief, was often seen on D'Angelicos, Guilds, and other top-of-the-line archtops from the period. They were generally supplied with one or two-knob control boxes, either hardwired with cords, screw-type mini-microphone connectors or, on later versions, a 1/8" mini-phone jack. The two-knob versions came with a "rhythm" switch push button (to change the tone and volume quickly when the player switches from rhythm to lead playing).
The entry-level model was known as the FHC (pictured above on a Gibson L-4C) while the higher-end models were named the Model 1000 Rhythm Chief and the Model 1100 Adjustable Rhythm Chief.
I've found few other details about Rowe Industries except that during the 1990's Fender bought the DeArmond Company from Guild.
Read more about Harry DeArmond →
Learn everything there is to know about the history of the Rowe Industries/Rowe DeArmond/H N Rowe companies located in Toledo Ohio from 1930s to the 1980s at www.musicpickups.com