Books
Great reading selections for the Archtop enthusiast (in no particular order):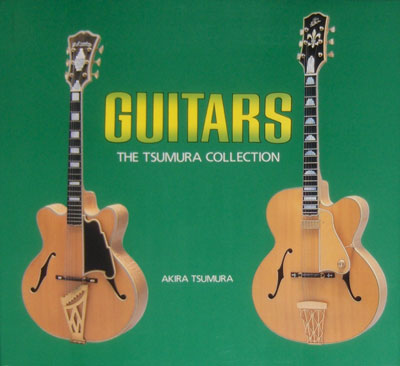 Tsumura Collection
by Akira Tsumura
This limited edition book includes chapters on D'Angelico, D'Aquisto, Gibson, Epiphone, Gretsch, Stromberg and a multitude of other makers such as Martin, Guild, Koontz and Fender.
The Guitar and the New World: A Fugitive History
by Joe Gioia
After uncovering the immigrant experience of his guitar-making Sicilian great uncle, Gioia's investigation stretches from the ancient world to the fateful events of the 1901 Buffalo Pan American Exposition...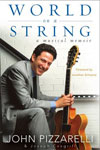 World on a String: A Musical Memoir
by John Pizzarelli
Absorbing, upbeat, funny, and down to earth, World on a String is an irresistible celebration of music and life that will appeal to John Pizzarelli's large and growing following.
The Epiphone Guitar Book: A Complete History of Epiphone Guitars
by Walter Carter
I haven't read this one yet but Walter Carter has written quite a few nice books on the history of guitars.

Norman's Rare Guitars
by David Swartz
Page after page of beautifully photographed vintage guitars, numerous Gibson archtops throughout, and a nicely written history of the first vintage guitar shop in Los Angeles, California.

Hand Made, Hand Played: The Art & Craft of Contemporary Guitars
by Robert Shaw
A wonderful coffee table book filled with high quality photographs and information on modern-day luthiers (stringed instrument builders) from around the world that you will return to again and again!

D'Angelico Master Guitar Builder What's in a Name?
by Frank W.M. Green
John D'Angelico is, by far, the most respected master guitar builder in history. Here in personal and cooperative histories, anecdotes, and first-hand accounts, Frank Green has infused the name of the master with life and vitality. Many rare photos!

Barney Kessel: A Jazz Legend
by Maurice J. Summerfield
Barney played with Lester Young, Charlie Parker, Billie Holiday, Art Tatum, Sarah Vaughan, Ella Fitzgerald, Anita O'Day, Ben Webster and Sonny Rollins. He's played guitar on on The Beach Boys' Pet Sounds and he accompanied Fred Astaire on a wonderful album featuring the Oscar Peterson Trio. Never has there been a more diverse and accomplished jazz guitarist!

History of the Guitar in Jazz
by Norman Mongan
A great overall history of the guitar in jazz, Norman Mongan's THE HISTORY OF THE GUITAR IN JAZZ (first published in 1984) is considered THE reference work on the subject of jazz guitar.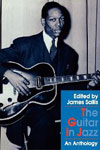 The Guitar in Jazz: An Anthology
by James Sallis
James Sallis's fine anthology covers all the bases, from early pioneers like Lang and Charlie Christian to latter-day virtuosi like Jim Hall and Bill Frisell. Hardly a single significant player is overlooked.

Conversations with Great Jazz and Studio Guitarists
by Jim Carlton
In-depth interviews with 22 of the industry's most notable guitar players. Candid conversations provide insight into revered jazz guitarists, the history and development of jazz guitar and the studio scene that flourished during its Golden Era to the present day.
My Life with The Chord Chemist: A Memoir of Ted Greene, Apotheosis of Solo Guitar
by Barbara Franklin
A retrospective of Ted Greene, virtuoso solo guitarist, beloved music teacher, world-renowned author and innovator of unique music concepts for guitar. This book also includes an overview of Ted Greene's early life and musical development, plus an insightful narrative of the 13 years prior to his death.
The Gibson Super 400 - Art of the Fine Guitar
by Thomas A. Van Hoose
The end-all bible of the Super 400. Everything from it's history, shipping totals, Dr. Van Hoose's own rarity index (derived from comparing an individual model's production to the entire production for every year of Super 400 production) and loaded with photographs.

The Gibson L5 - It's History and It's Players
by Adrian Ingram
Not as thick or involved a book as the one listed above, it is an obvious companion as the history of the L5 often overlaps that of it's larger sibling.

Making an Archtop Guitar
by Robert Benedetto
The definitive work on the design and construction of an acoustic archtop guitar by one of the most respected luthiers of the twentieth century. It includes a list of suppliers to acquire all the tools and materials listed and fold-out templates for construction.

Acquired of the Angels: The Lives and Works of Master Guitar Makers John D'Angelico and James L. D'Aquisto
by Paul William Schmidt, Jonathan Kellerman
This book documents the lives two most prominent guitar makers of the 20th century, John D'Angelico and James L. D'Aquisto. It explores their lives and craftsmanship and features many rare and beautiful photographs.
Blue Guitar
by Ken Vose
Scott Chinery tracked down 22 of the world's finest luthiers, sent them each a bottle of Ultra Blue Penetrating Stain #M 520, and told them to make the archtop guitar of their dreams. The results are as beautiful as they are varied.
The Jazz Guitar
by Maurice J. Summerfield
A wonderful book that definitively covers the guitar's role in jazz including a biographies, discographies and publications on many accomplished jazz guitarists.

Sideman - The Autobiography of Billy Bauer
as told to Thea Luba
A fascinating insight into the life of one of the great classic jazz guitarists. Billy Bauer played with Woody Herman, Lennie Tristano, Benny Goodman, and many others, and has documented his experiences both as a player and as an instructor in this book that, until his passing on June 17, 2005, could be ordered directly from this self proclaimed "sideman".

Tal Farlow
by Guy Littler-Jones
This book discusses Tal's life and music from his early years, through his mid career when he was most noted for his lightning speed of execution, and into his later years when his playing entered a more lyrical phase. It includes several previously unpublished photographs and a comprehensive discography.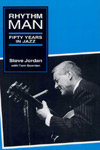 Rhythm Man: Fifty Years in Jazz
by Steve Jordan
Rhythm guitar great Jordan shares his memories of the musicians and their world, from his roots in the swing era prior to WWII and the big band era after the war, and continuing into the 1980s. Includes a selected discography of Jordan's most important recordings, and 16 pages of b&w photos.

Kiss and Tell : Autobiography of a Traveling Musician
by Martin Taylor and David Mead
Martin Taylor's autobiographical road diary. Lot's of great stories ranging from his childhood in England to his decade spent playing with Stephane Grappelli. Not only is Taylor an extremely talented guitarist (think Joe Pass) but also a role model I found very inspirational.

Bucky Pizzarelli - A Life in Music
by Terence M. Ripmaster
For more than half a century, John "Bucky" Pizzarelli has been a part of the fraternity of musicians who have kept mainstream and traditional jazz alive. The lists of big bands and vocalists with whom Bucky has performed and recorded reads like a veritable Who's Who of Jazz. This 208 page book offers a brief history of the jazz guitar, a generous dose of biographical information about Bucky, plus short sketches of dozens of other jazz stars of his era. Bucky's life story is told here largely through the eyes of his many illustrious associates.

One Long Tune: The Life And Music of Lenny Breau
by Ron Forbes-Roberts
"Mr. Guitar" Chet Atkins called Lenny Breau (1941-1984) "the greatest guitarist who ever walked the face of the earth." Breau began playing the instrument at age seven, and went on to master many styles, especially jazz. Between 1968 and 1983 he made a series of recordings that are among the most influential guitar albums of the century. Sadly, Lenny's career never took full flight as he spent his life fighting drug and alcohol dependency.

Wes Montgomery
by Adrian Ingram
Wes Montgomery was unquestionably the most significant jazz guitarist to emerge during the 1960s. During the '70s and '80s he had, like Charlie Christian and Django Reinhardt before him, become a major influence on other guitar players. Elements of his style are discernable in many of today's finest players. Through this book, guitarists and jazz guitar enthusiasts everywhere will fully understand and appreciate Wes's achievements, so often narrowly categorized as the development of octave playing.

The Early Years of the Les Paul Legacy 1915-1963
by Lawrence Ro
Thoughtfully written and impeccably researched, this book is a fantastic artist and guitar reference. The biography section in entertaining and informative, but the guitar section is the heart of this book. Beautifully photographed and interspersed with information and interviews.

Epiphone: The House of Stathopoulo
by Jim Fisch, L. B. Fred
A comprehensive history of the original Ephiphone company. Loaded with photographs, advertisements or sidebars and interviews with guitar greats like Les Paul. An American tragedy as the Stathopoulo family struggled to maintain a beautifully crafted line of musical instruments in an ever-changing world.